In late January-early February 2020, the school district's School Calendar Committee was convened to develop a School Calendar for the 2020-2021 school year.
The Board of Education approved the 2020-2021 School Calendar at its February 26, 2020 Regular Board Meeting with final approval received from the Ministry of Education on May 7, 2020.
The first day of school for the 2020-2021 school year will be Tuesday, September 8, 2020.
Please find the 2020-2021 School Calendar with non-instructional days, a district in-service day, early dismissal days, spring and winter breaks, etc.  A backgrounder page is also provided outlining details of the calendar for your convenience.
CMSD82 2020-2021 School Calendar
CMSD82 2020-2021 School Calendar – Backgrounder
Further information regarding the 2020-2021 School Calendar can be obtained by contacting Carole Gagnon, Executive Assistant at the Board of Education Office at (250) 638-4401 or via email at carole.gagnon@cmsd.bc.ca.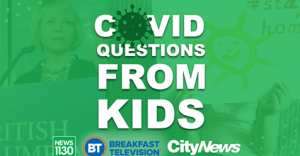 Provincial Health Officer, Dr. Bonnie Henry and Minister of Education, Rob Fleming will be answering questions from children about COVID-19 during a virtual town hall that will be live streamed on Saturday, May 2 from 1:00 p.m. to 2:00 p.m. on  News 1130's Facebook page.
Details about the event and instructions for children to submit questions can be found on City News and News 1130's website.
This event will be posted to CMSD82 school websites and shared with our District Parent Advisory Council (DPAC) and School PACs for the information of parents and guardians.
Dr. Bonnie Henry, Provincial Health Officer has prepared a special video address to thank teachers, educational assistants and school staff for all their work during these unprecedented times.
As we continue to flatten the COVID-19 curve in B.C., Dr. Henry shares it is crucial that we maintain the supports established for the children of essential service workers and make sure we continue to expand the provision of in-person support for vulnerable students, and students with disabilities and diverse abilities.
Please watch Dr. Henry's video and share with your colleagues.
District Wide Student Registration Form – 2020-2021 School Year
As part of our continued efforts to communicate regularly with staff, parents-guardians and school communities, please find a video message from our Acting Superintendent of Schools, Janet Meyer issued April 9:
By continuing to work together, we are confident that we will find the way forward together.
Wishing you a Happy Easter!  Let's remember to continue to flatten the curve by adhering to social distancing over the Easter Long Weekend.  Stay safe and be well.