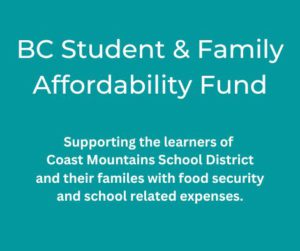 At the beginning of the 2022-23 school year, the Ministry of Education and Child Care announced a one-time grant to school districts to help make life more affordable for families who are facing financial challenges. Coast Mountains School District received a grant of $510,045 to be used primarily to support healthy food programming and expenses related to school fees and supplies.  Through a consultative process, priorities and allocations have been identified and the grant is being actioned with the support of schools and partners.
In Coast Mountains Schools District, approximately 75% of the fund will be used to support existing food programming both during and outside of the school day.  School food, including breakfast, lunch, snack and pantry programs, will receive support, ensuring all learners have access to healthy, nourishing options every day.  Funds have also been committed for local community partners and First Nations to support feeding learners and their families through other channels.  Additionally, approximately 5% of the grant will be used to support school concerts and cultural events, while the remaining 20% will help offset costs related to school fees and other expenses for children to fully participate in their schooling experience.  Examples of expenses that may be submitted include school based extra-curricular activities, athletics fees, school supplies, or clothing for winter.
School staff members, parents, or caregivers can make a request for financial support of a learner's fee or expense by completing a Student & Family Affordability Fund form.  The form is available in every school office in Coast Mountains School District and is also available for download at: CMSD82 Student & Family Affordability Fund 2022 (fillable)
Completed forms must be submitted to the child's school, where they will be received by the Principal.
Any inquiries about the Student & Family Affordability Fund should be directed to the school Principal.