Philosophy Statement
"As an Early Childhood Educator, I  believe that children are to be valued as individuals, growing through play, guidance and support. 
The Kildala "Get Ready To Grow" StrongStart centre provides a safe, comfortable learning environment that will help guide the child's developmental needs. 
As a certified Early childhood teacher, I believe that working with families and professionals in the community, will give children the opportunity to expand and develop into their unique selves. 
I strive to provide a safe, well organized, hands on self learning environment;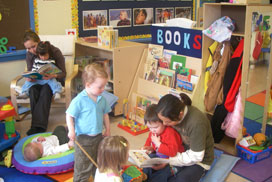 involving group and individual activities and quiet play options. 
A daily balanced schedule allows for early intervention, assessments and specialized programming that will guide your child before entering Kindergarten. 
Cooperative learning plus open communication with families will provide nurturing for the child and first valued learning experiences is a vital component for success in achieving goals for our program. 
The contribution and needs of each of the families' outlook, ethnicity, values and aspirations become an important part of this partnership that can help provide for the children in our group. " – Joanne Mueller – Kildala StrongStart